---
Konsta's Pratchett Homepage Is No More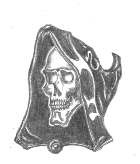 I didn't have the time nor the will to keep constantly updating my Terry Pratchett -site, I decided to stop doing it. I'm sorry for the inconvenience, and I would like to thank you for your interest.
You can still find all my old drawings of the Discworld characters however. I moved them to a more convenient location at: http://www.helsinki.fi/~hansson/pratchett/.
If you want to visit a real Pratchett -site, visit L-Space, the "official" Discworld homesite.
---